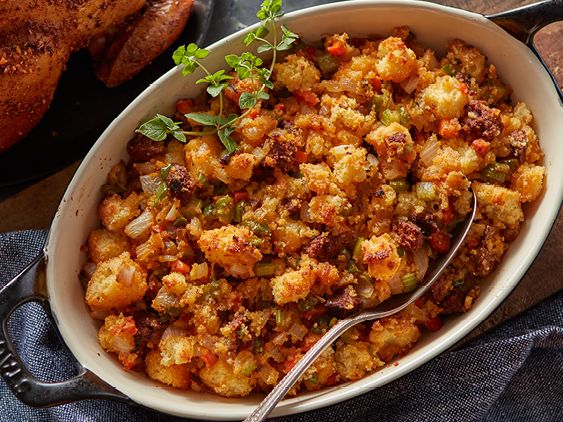 This savory side provides a nice spicy kick to a Thanksgiving meal, but also freezes well for weeknight leftovers.
Total Time: 40 minutes; 20 minutes active
Servings: 4
Ingredients:
1/2 cup ground Mexican-style chorizo (any casings removed)
1 large onion, chopped
1 rib celery, chopped
1 small green pepper, chopped
1 large carrot
3 cups cubed cornbread
1 cup chicken stock
1/2 teaspoon salt
1/2 teaspoon pepper
Preparation
Preheat the oven to 375 F, and lightly oil a small casserole or baking pan.
Place a large skillet over medium heat, then crumble the chorizo into the pan, stirring and breaking into pieces as you cook until browned. Pour off any excess fat. Add onion, celery, green pepper and carrot and stir for five minutes. Stir in the chicken stock.
Turn off the heat, add cornbread, salt and pepper, and fold to mix. Spread in prepared pan and bake for 20 minutes. When the top is lightly browned, cool on a rack briefly before serving hot.
Posted by permission from grocery.coop.
Find more recipes and information about your food and where it comes from at grocery.coop.