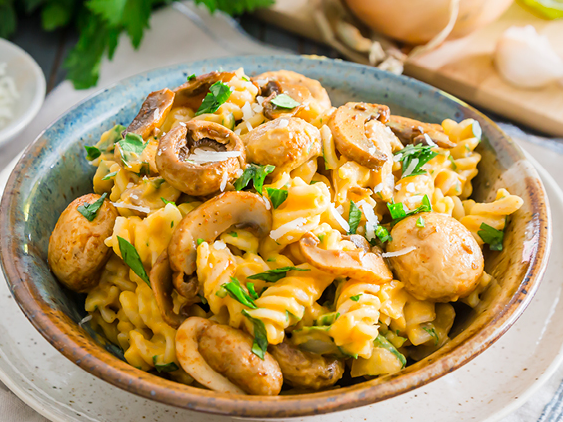 Whether for a weeknight dinner or a special occasion meal, this sumptuous pumpkin pasta makes dinner a breeze.
Total Time: 35 minutes
Servings: 6
Ingredients:
1 lb. pasta spirals (whole wheat or gluten free are fine)
3 tablespoons extra virgin olive oil, divided
8 oz. button mushrooms, thinly sliced
1/2 teaspoon smoked paprika
1 large onion, chopped
3 cloves garlic, chopped
1 15-oz. can pumpkin
1 tablespoon fresh rosemary, chopped, plus more for garnish
1/4 cup white wine
1 cup cream
1/2 teaspoon salt
1/2 teaspoon freshly ground black pepper
3/4 cup Parmesan cheese
1/2 cup fresh parsley, chopped
Preparation
Put on a pot of salted water to boil for the pasta.
In a large skillet, heat 2 tablespoons of the olive oil over medium-high heat and add the mushrooms. Stir frequently for about 5 minutes, until the mushrooms are browned and soft. Sprinkle with smoked paprika and salt and toss to mix. Transfer the mushrooms to a bowl and keep warm.
Add the remaining olive oil to the pan, then add the onions. Saute, stirring, until the onions sizzle, then reduce the heat to medium-low. Cook for at least 5 minutes. When the onions are soft, add the garlic and rosemary and stir for a few seconds, until fragrant.
To the pan, add the pumpkin, wine, cream, salt and pepper and whisk to mix. Raise the heat to medium-high and bring to a boil, then reduce to medium and simmer vigorously, stirring frequently, for about 5 minutes or until thickened. While hot, whisk in the Parmesan cheese and stir to melt.
Cook the pasta according to package directions. Drain and toss with the sauce and parsley. Serve hot, topped with seared mushrooms.
Posted by permission from grocery.coop.
Find more recipes and information about your food and where it comes from at grocery.coop.