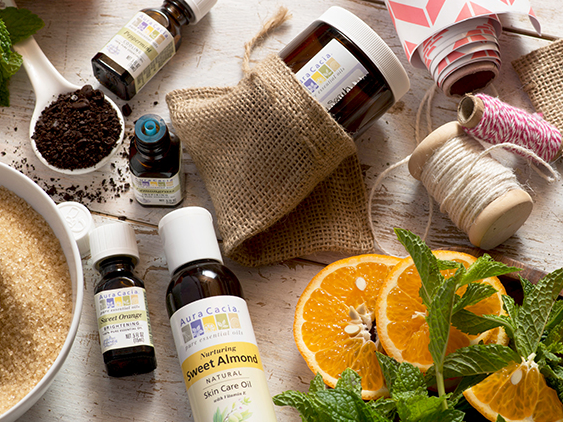 Enjoy giving and receiving this holiday season with Do It Yourself gifts!
Bestow bespoke presents tailored to your friends' and loved ones' favorite scents and tastes while avoiding allergens and additives.
Craft sustainably with local and fair trade ingredients using these recipes:
DIY Body Scrub with Essential Oils
Ingredients
4 tablespoons granulated sugar
1/2 tablespoon coarsely ground coffee
3 1/2 tablespoons Aura Cacia® Sweet Almond Oil
30 drops Aura Cacia® Sweet Orange Essential Oil
9 drops Aura Cacia® Peppermint Essential Oil
9 drops Aura Cacia® Spearmint Essential Oil
4-ounce wide-mouth jar
Preparation
In a mixing bowl, combine all ingredients and stir until well blended. Transfer to wide-mouth jar.
To use, scoop scrub out of jar with fingertips and apply to skin using gentle circular motions.
Rinse with warm water and pat dry.
Note: For a sweeter, more citrusy aroma, substitute bergamot (bergaptene-free) essential oil for the spearmint. For a more meditative, calming aroma, substitute frankincense essential oil for the peppermint and spearmint.
DIY Lip Balm
Makes 4 ½-oz. tubes.
1 tablespoon beeswax pearls (or 1 tablespoon grated, unbleached beeswax)
1 tablespoon shea butter
2 tablespoon carrier oil (sunflower, castor, almond or jojoba)
10-15 drops essential oil
1 teaspoon honey (optional, for those that like it slightly sweet) 
Melt beeswax, shea butter and oil together in a small bowl in the microwave. If you don't have a microwave, use a double boiler or a heat-safe bowl over simmering water. Stir until ingredients are liquid, then add essential oils and optional honey. Mix well. Transfer to a large eyedropper, syringe, or container with a spout, and divide liquid among four ½ ounce lip balm tins, jars or tubes. 
Customize your creation
To tint or color lip balm, add 1/8 teaspoon of lipstick to the solid ingredients when melting (just take a tiny dab off the end of your favorite tube). You can also use a drop or two of natural red food coloring, or a small amount of beetroot powder or a loose mineral powder (like blush). 
To make lip balm super shiny, adjust the recipe by adding one teaspoon more of carrier oil. Note that this formulation will not be suitable for tubes, since the end result will not be firm enough. 
Scent ideas: In addition to single scent blends that are popular, like peppermint and vanilla, consider these fun combinations:
Maple Chipotle Spiced Nuts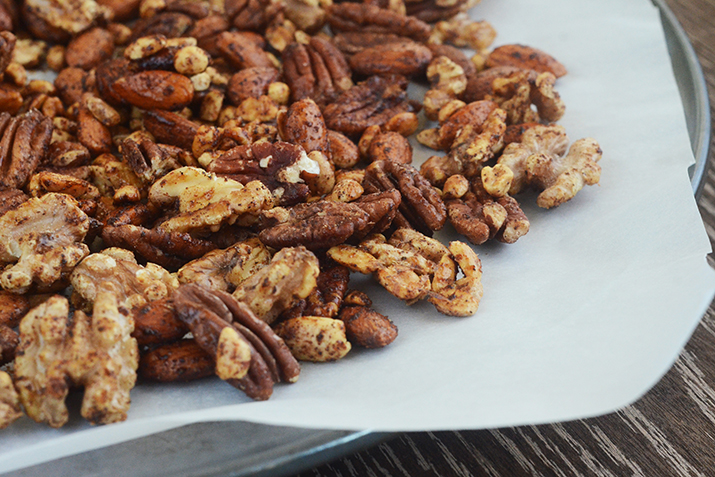 Ingredients
1 pound unsalted mixed nuts, preferably raw: almonds, walnut and pecan halves, peanuts
1/4 cup maple syrup
2 teaspoons chipotle powder
1 teaspoon salt
1 teaspoon ground black pepper
Preparation
Preheat oven to 325 degrees F. In a small bowl, combine the maple syrup, chipotle powder, salt, and pepper. Add the nuts to the mixture and toss well to coat. Spread the coated nuts in a single layer on a parchment-lined baking sheet and bake for 5 to 7 minutes; then stir and roast another 5 to 7 minutes, remove to a heat-proof bowl and allow to cool. Break up any nuts that are stuck together.
Feel free to experiment with other seasonings to suit the taste of your recipient.
Package cooled nuts in resuable jars for a gift that keeps on giving!
Cinnamon Sugar Roasted Almonds
Ingredients
1 egg white
1/2 teaspoon water
2 cups whole almonds
1/2 cup turbinado sugar
1/2 teaspoon kosher salt
2 teaspoons cinnamon
Preparation
Preheat the oven to 300 degrees F. Lightly oil a sheet pan.
In a medium bowl, whisk the egg white, take out 2 tablespoons, and put them in a large bowl. In the large bowl, whisk the water into the egg white until frothy. Add the almonds and toss to coat with egg white. Add the sugar, salt and cinnamon and toss to coat evenly.
Spread the almonds on the oiled pan and bake for 20 minutes, then stir and rotate the pan, and bake for 20 minutes more. Let cool completely on the pan before transferring to a jar or other airtight container.
Keeps for two weeks at room temperature, or a month in the refrigerator.
No-Bake Sugar Cookie Truffles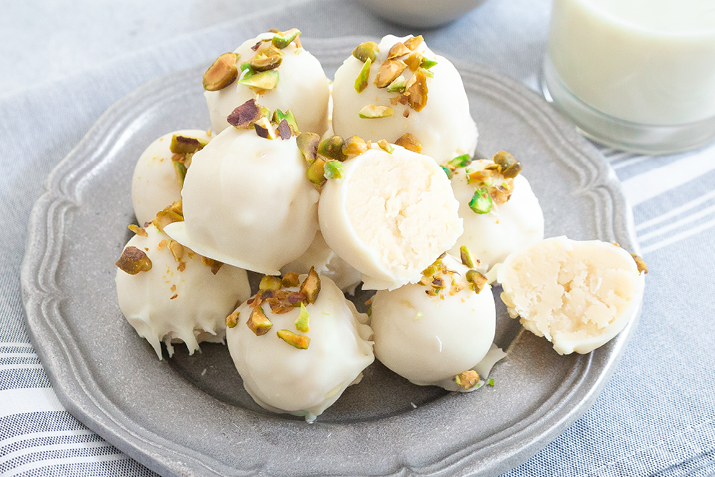 Ingredients
12 3-inch sugar cookies (14 ounces)
2 tablespoons cream cheese
1 cup white chocolate chips
Preparation
Line a sheet pan with parchment paper. Crumble the cookies into the bowl of a food processor and add the cream cheese. Process until a smooth paste is produced, scraping down and repeating as needed. Use a tablespoon to scoop out level portions. Roll each between your palms to make an even ball. Place on the prepared pan and chill until firm, about 2 hours.
When firm, melt the white chocolate in a double boiler set over barely-simmering water. Use a fork to drop each truffle into the white chocolate, turn to coat, and lift out, tapping the fork on the edge of the pan to allow excess chocolate to fall back into the pan. Place dipped truffles back on the parchment-lined pan, and repeat. If there is a little chocolate left over, use the fork to drizzle it back and forth over the truffles for a decorative pattern. Chill again until set, then transfer to a storage container and keep in the refrigerator, tightly covered, until time to serve. These keep for a week in the refrigerator.
Serve with a sprinkle of crushed pistachios (as pictured), chocolate chips, sprinkles, or slivered almonds for an eye-catching treat.
Tahini Stuffed Dates with Cinnamon Chocolate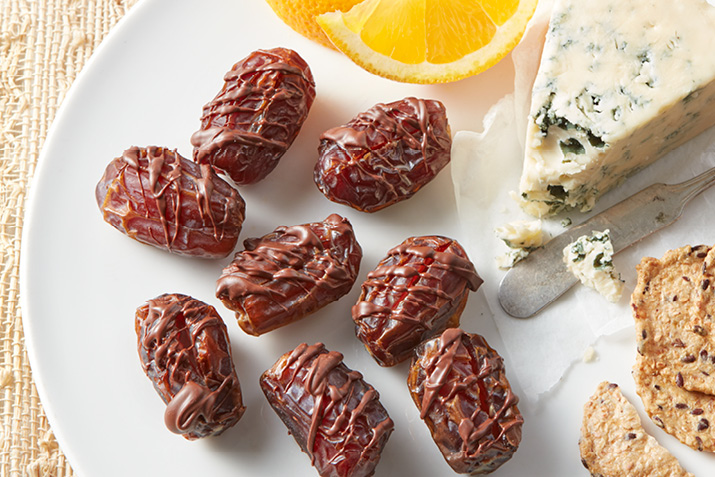 Ingredients
8 large Medjool dates
2 teaspoons tahini
1 ounce semisweet chocolate
1/2 teaspoon vegetable oil
1/2 teaspoon ground cinnamon
1 pinch sesame seeds, toasted (optional)
Preparation
Using a paring knife, cut a slit the length of each date and slide out the pits. Scoop ¼ teaspoon tahini into the hollow of each date where the pit was, closing the date to contain the stuffing. Place the dates on a plate or in a tub.
Melt the chocolate in a bowl in the microwave or over simmering water on the stove. Stir in the oil and cinnamon. Drizzle a little bit of the chocolate mixture over each date and sprinkle with toasted sesame seeds, if using.
Serve at room temperature or refrigerate until firm.
Lime Macaroons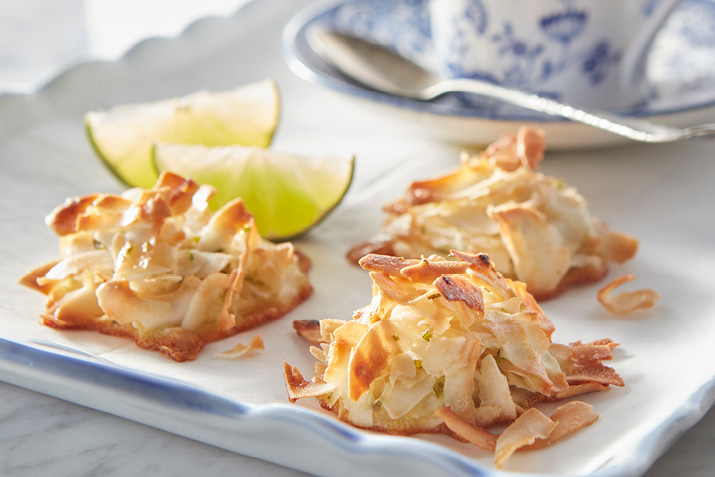 Ingredients
2 large egg whites
1/4 cup sugar
1 tablespoon lime zest
1/4 teaspoon salt
2 cups unsweetened coconut chips
Preparation
Preheat the oven to 350 F. Line a sheet pan with parchment paper.
In a large bowl, whisk the egg whites until frothy. Whisk in the sugar, lime zest and salt.
Stir and fold in the coconut chips until well mixed.
Scoop rounded tablespoons of the mixture, pack tightly, then place on the prepared pan, leaving two inches between scoops.
Bake for eight minutes, then reverse the position of the pan and bake for eight minutes longer. When golden brown, remove from oven and cool on a rack.
Store macaroons in a tightly sealed container for up to a week.
Cranberry Biscotti Bites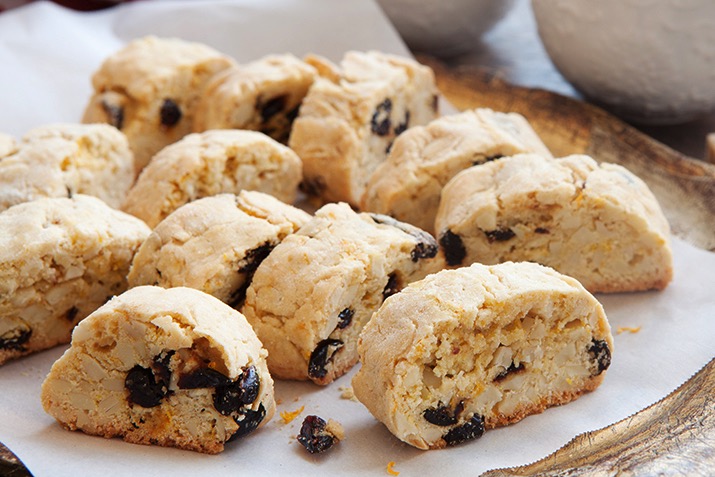 Ingredients
3/4 cup sugar
1/4 cup olive oil
2 teaspoons vanilla extract
1 1/2 teaspoons orange zest
1/2 teaspoon almond extract
2 eggs
1 3/4 cup all-purpose flour
1 teaspoon baking powder
1/4 teaspoon salt
1/2 cup dried cranberries
1 1/2 cup slivered almonds
Preparation
Preheat oven to 300⁰F.
In a mixing bowl, mix together sugar and oil, then vanilla, orange zest and almond extract. Beat in the eggs until smooth.
In a separate bowl, combine flour, salt, baking powder, then stir in the dried cranberries and almonds. Stir the wet ingredients into the dry ingredients slowly to form a wet dough. Do not overmix.
Remove the dough to a floured work surface. Divide the dough into two equal pieces and form each piece into a flat log, about 2" wide and 12" long. Place each log on a parchment-lined baking sheet.
Place the baking sheet in the oven and bake for about 35 minutes, or until just lightly browned. Remove from the oven and allow to cool for 10 minutes. Reduce the oven temperature to 250⁰F.
Cut the logs diagonally into 3/4-inch slices. Place them cut-side up on the parchment-lined baking sheet and bake for 10 to 12 minutes more, or until dry. Cool completely before storing in an airtight container at room temperature.
You can check out even more DIY gift ideas on our dedicated Pinterest board!
The recipes above are posted by permission from grocery.coop.
Find more recipes and information about your food and where it comes from at grocery.coop.