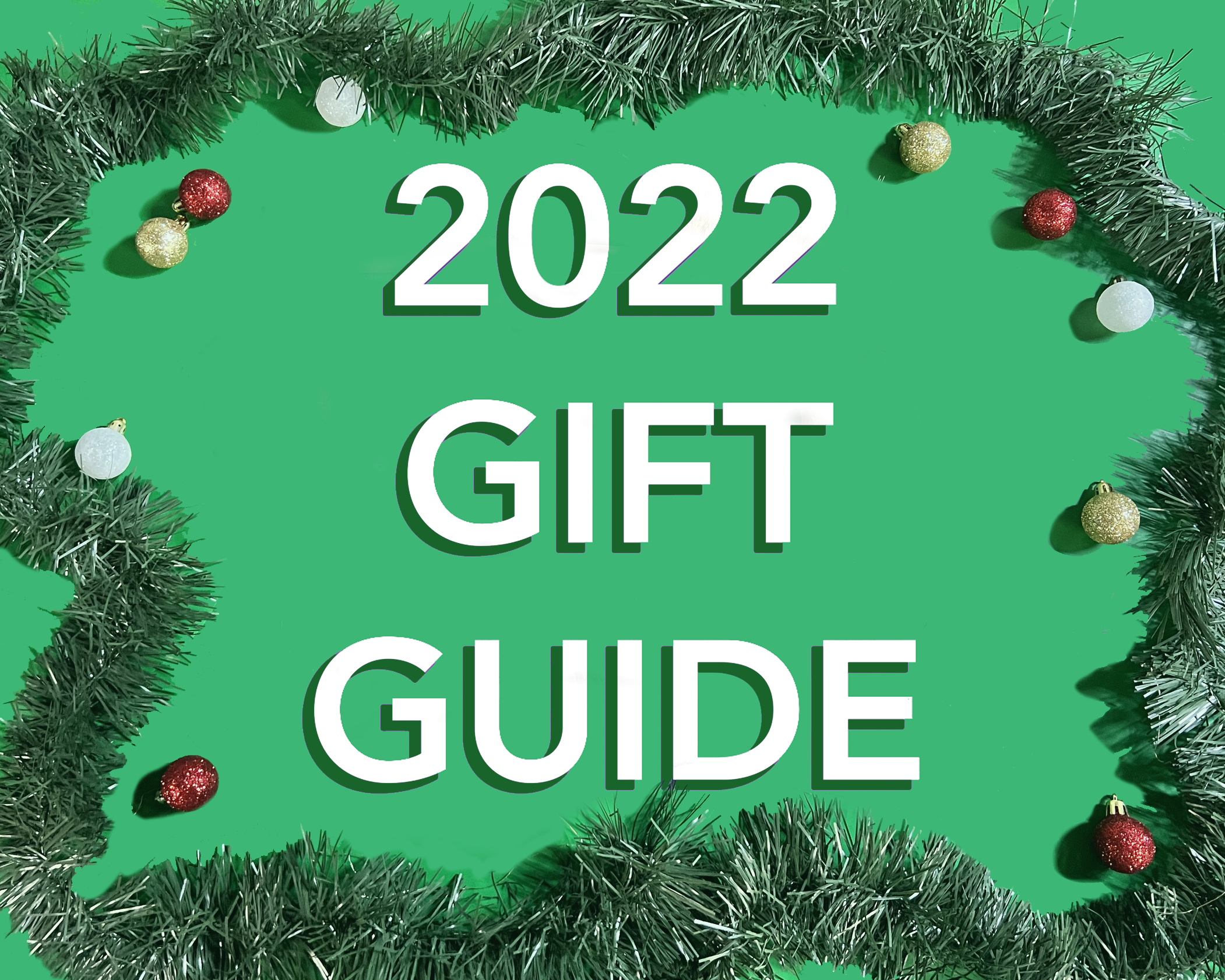 Support your values and a small local business by picking up gifts at your co-op!
Add a gift to your delivery or pickup order and skip the shipping wait!
When you shop at the co-op, you know that your money stays in the community you love!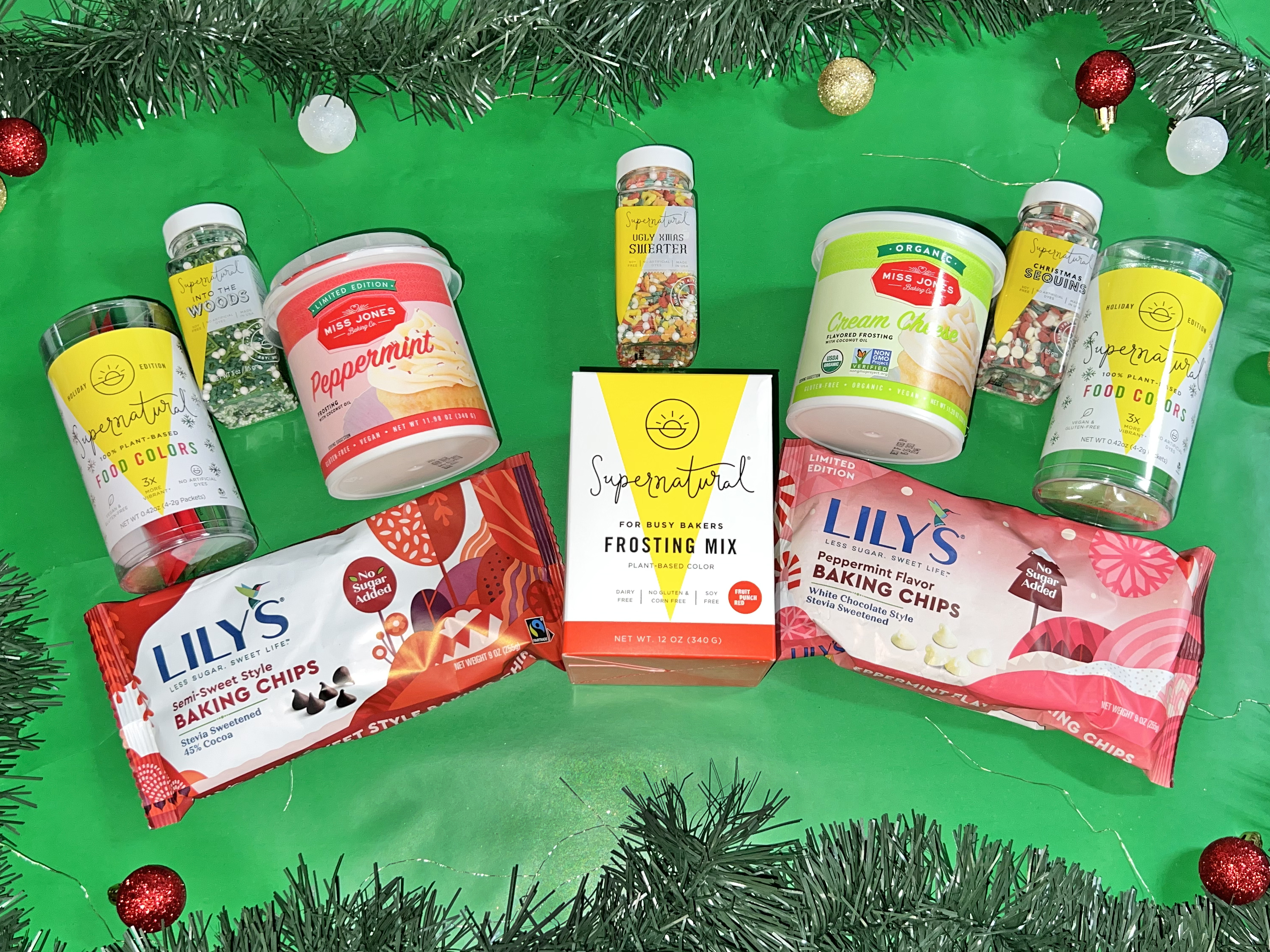 Baking decorations can make a perfect gift for your favorite baker. This year, Supernatural brings a lot to the oven with frosting mix, food coloring and best of all, sprinkles. We also have multiple frosting flavors from Miss Jones including cream cheese and limited edition Peppermint!
For our cookie fans, we have Lily's semi-sweet chocolate chips and peppermint chips are a sugar-free way to add a festive touch.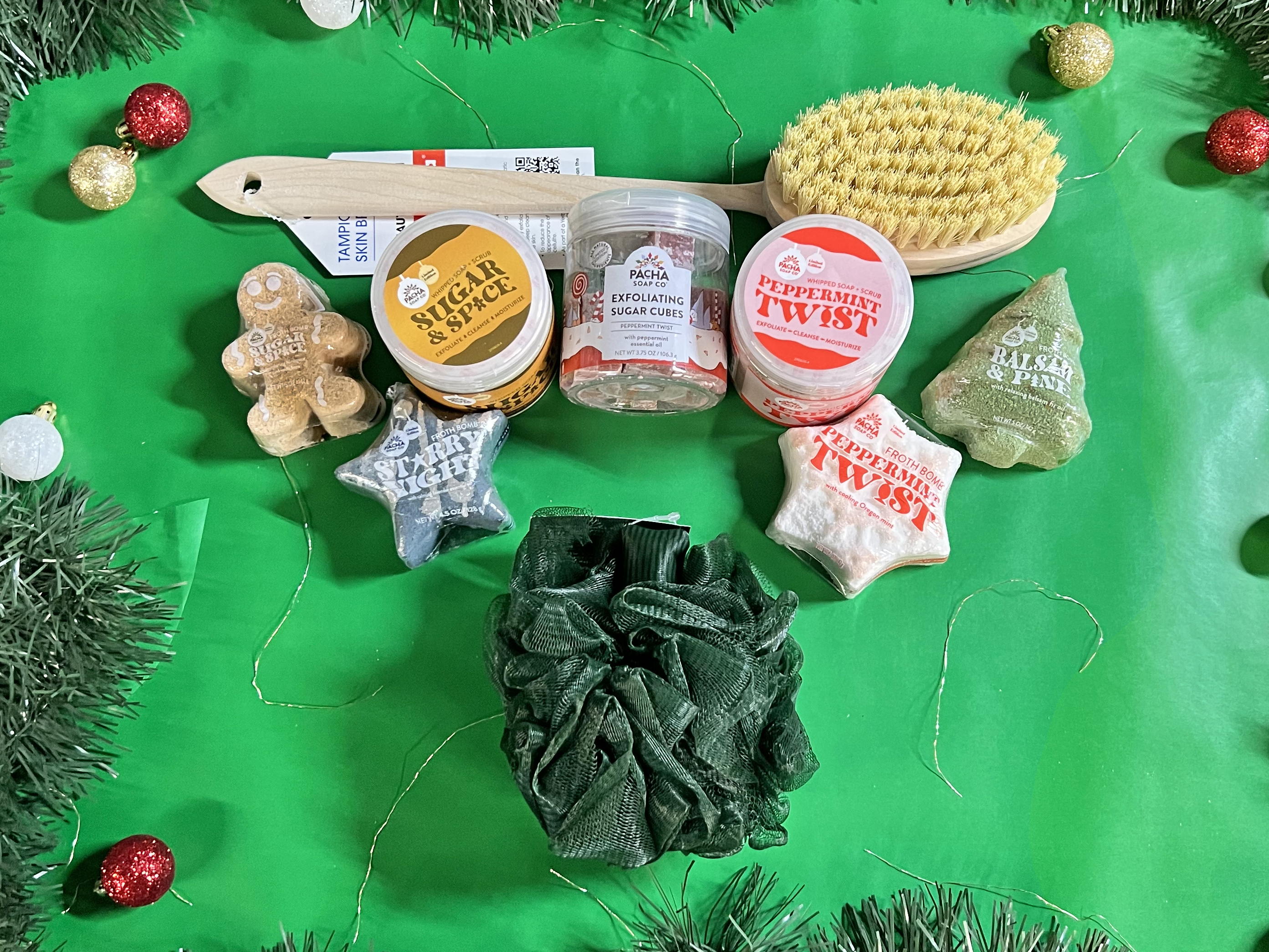 Everyone loves a relaxing bath, but for those with a need to keep it clean, this one's for you! Our sugar & spice and peppermint twist exfoliating scrubs and cubes will have you feeling extra fresh this holiday season, along with their matching bath bombs. For an extra strong scrub, pick up a loofah or skin brush for yourself or someone close!
If someone you know is planning to stay in the great indoors this winter, get them something to help keep them warm.
Celestial Seasonings always has your back with Peppermint and Mint Magic teas. For those who love the taste of coffee but not the effects, Teeccino offers a hazelnut herbal "coffee" that's bound to get you in the holiday spirit. Last, but most certainly not least, grab some instant hot cocoa (available in a variety of flavors) and add vegan mini marshmallows to keep your hands and your heart warm.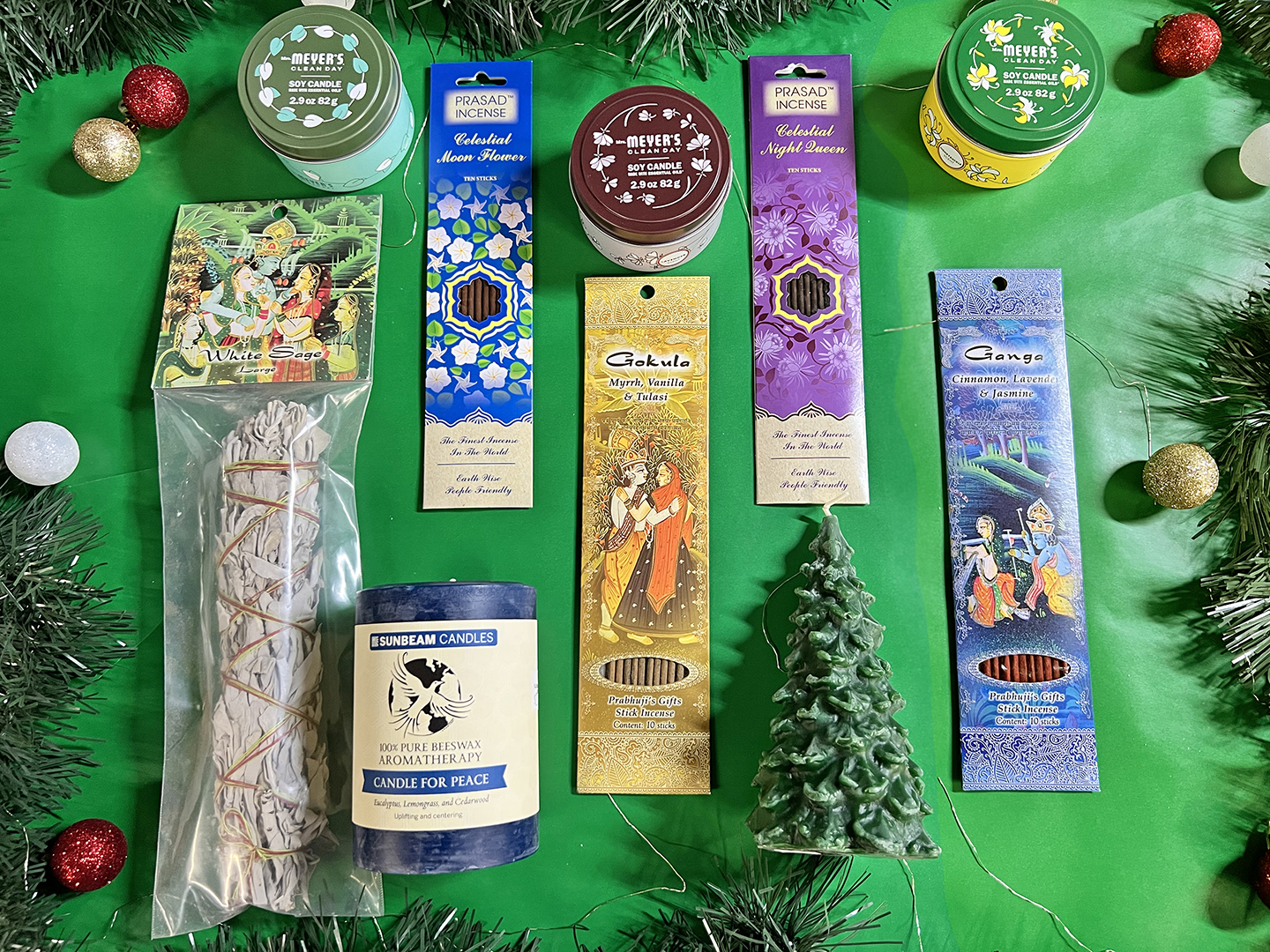 Winter warmth and light can include aromatherapy with the burning of candles and incense. Mrs. Meyers candles bring the smell of Basil, Honeysuckle, and Lavender to your or a loved ones' home.
Pass on a message of peace with Sunbeam's locally-made Aromatherapy Peace candle, or select a pine tree candle for decor that does more. Bundled sage, a variety of incense, and seasonal essential oil collections add scent to the holiday cheer!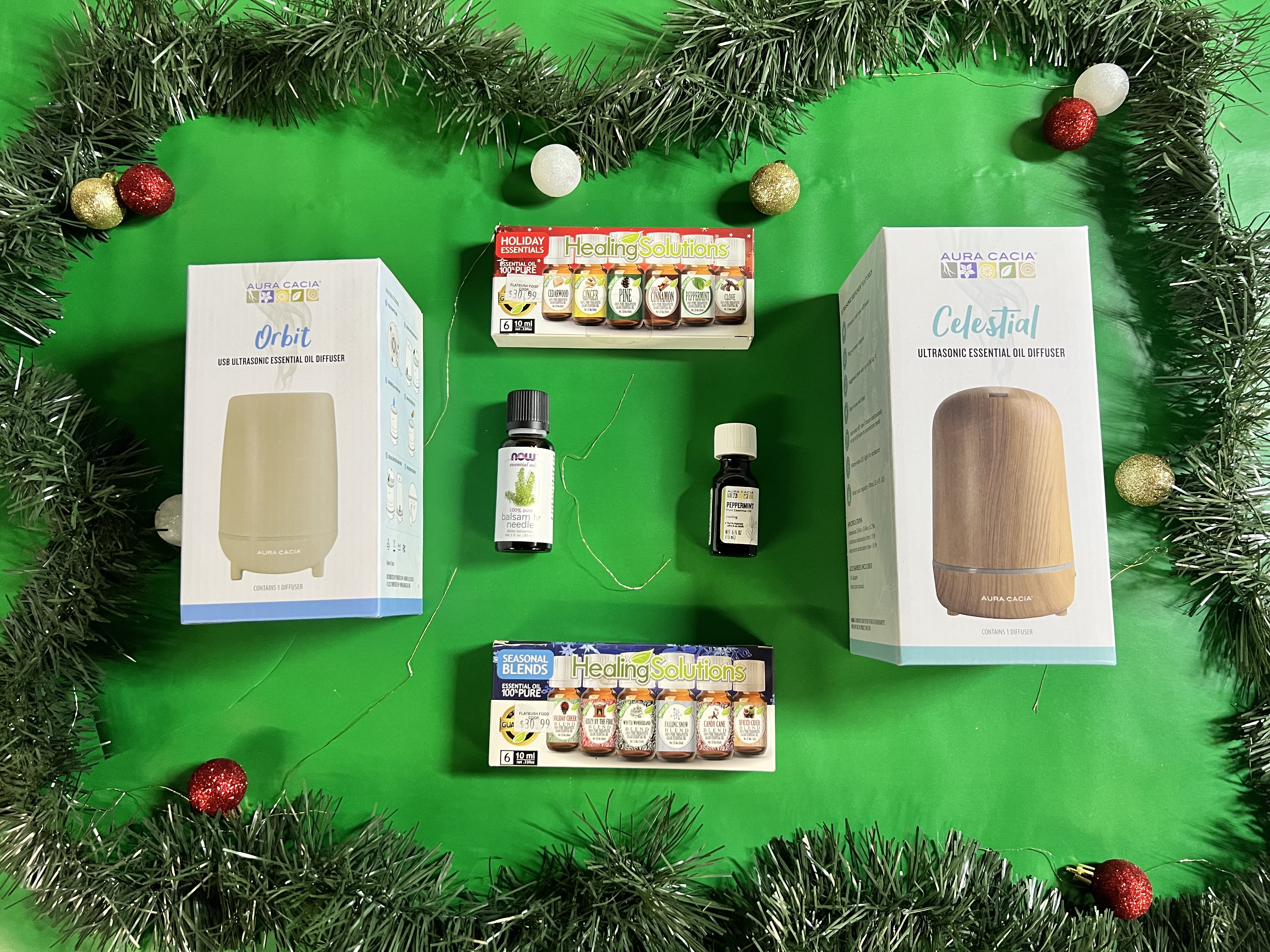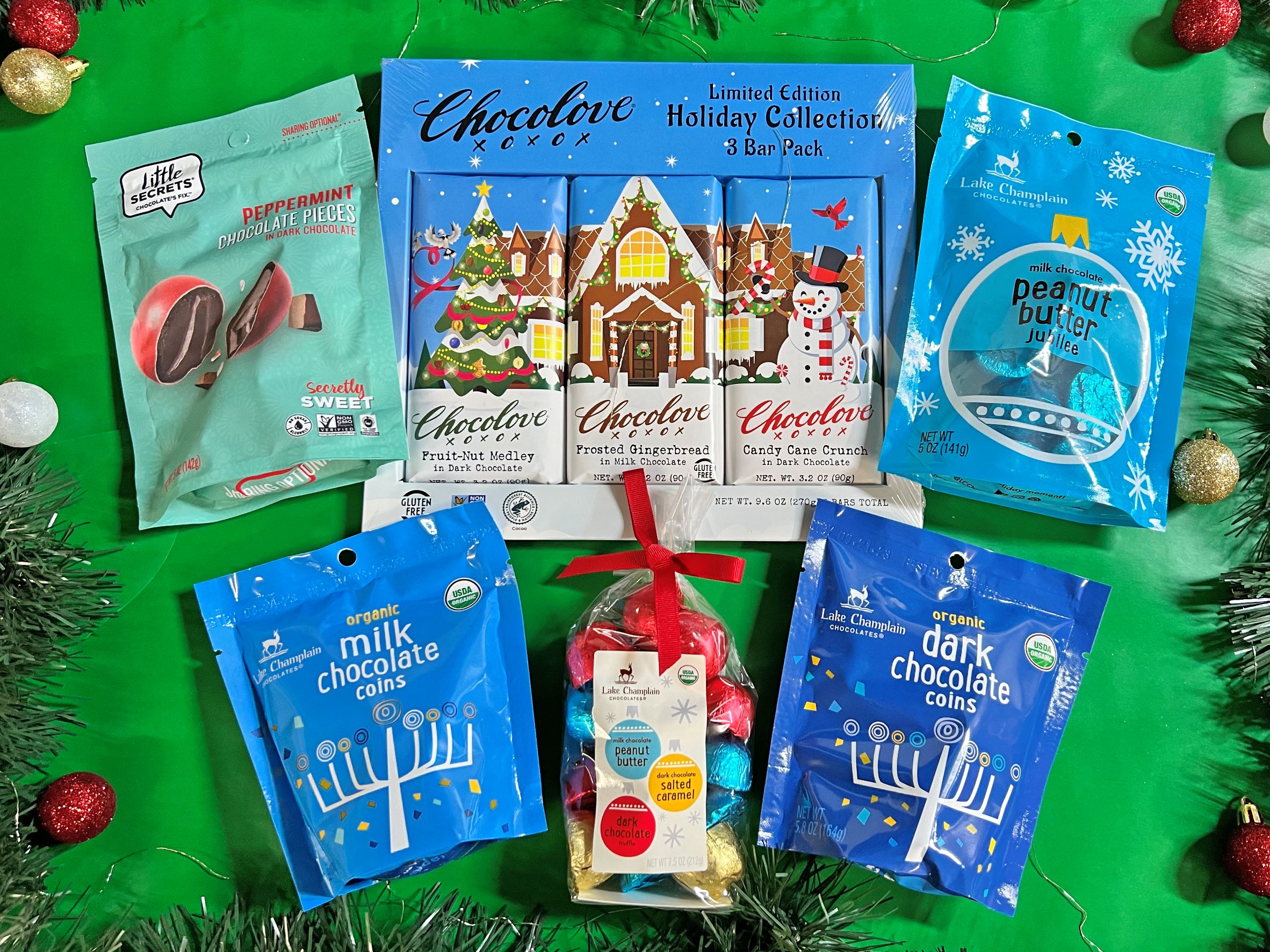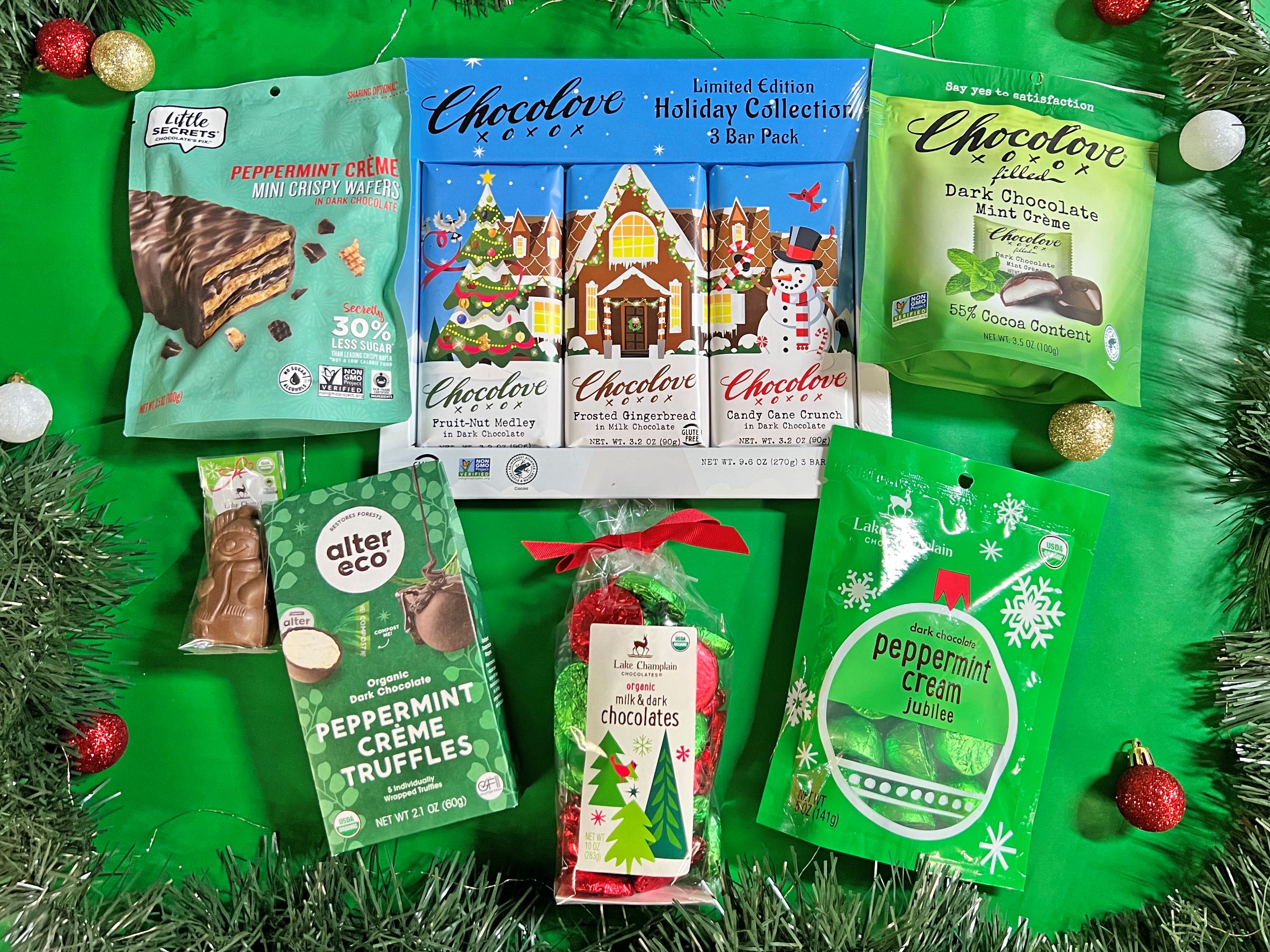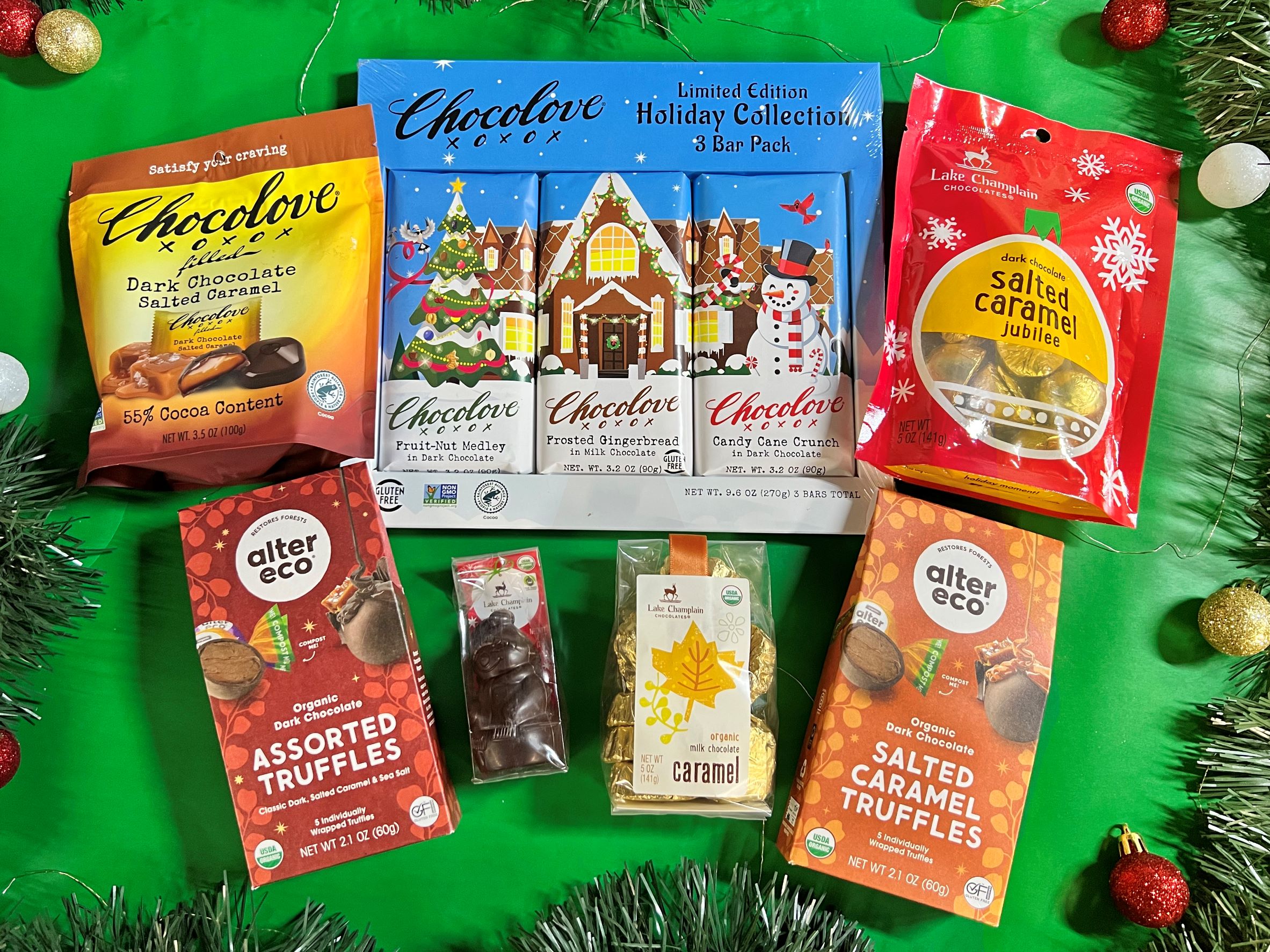 Chocolate is a year round favorite for most of us, but especially during the holidays. This season, we have many different chocolate goodies on display. Chocolove offers gluten free chocolate bars in three different holiday flavors including frosted gingerbread, fruit-nut medley, and candy cane crunch. You can also trade in some of your coins for milk and dark chocolate coins instead!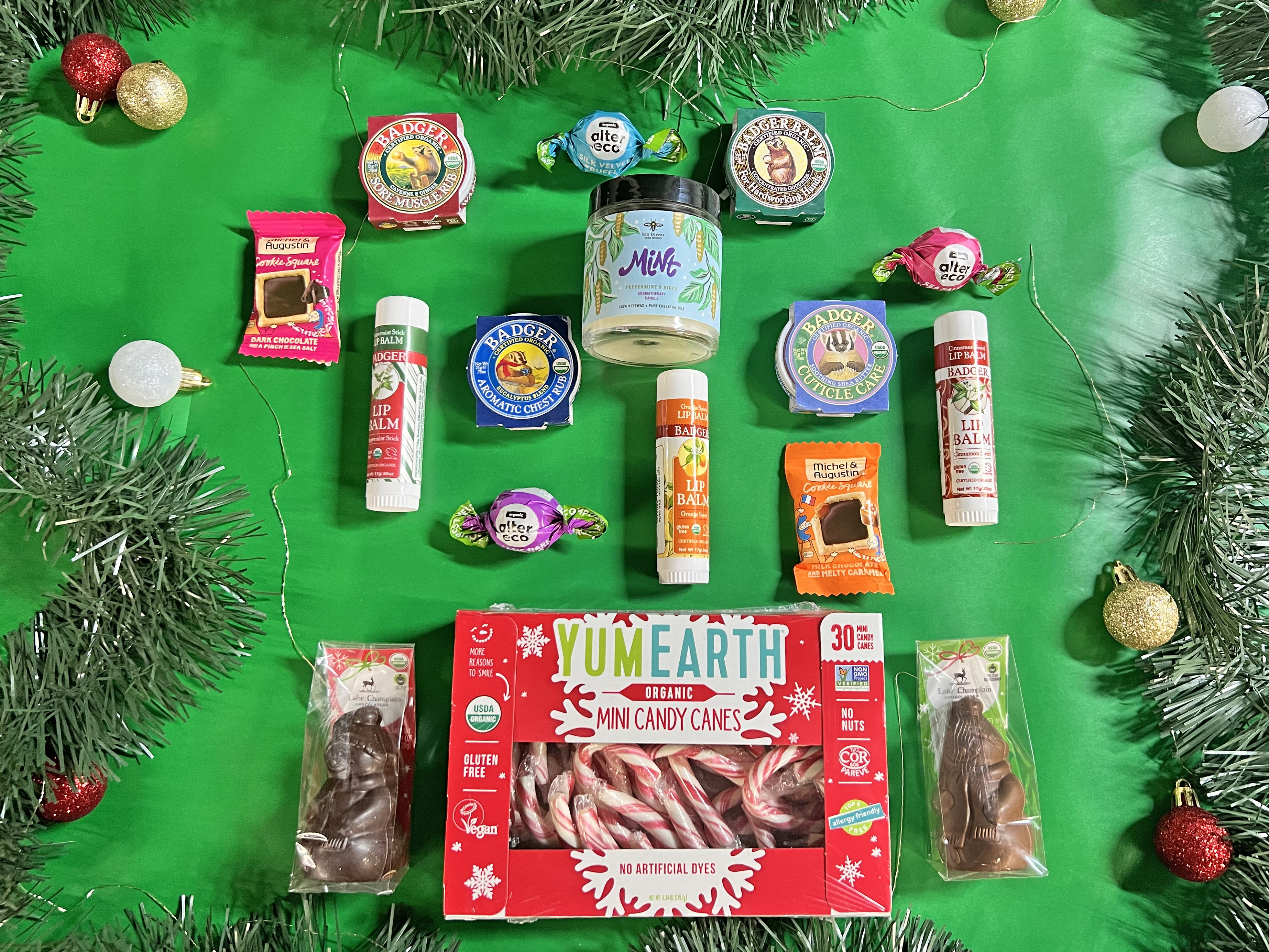 If you're planning on keeping it small this year and just filling a few stockings, these are the perfect little treats and goods. For starters, we have delicious organic chocolate truffles from Alter Eco in silk velvet, sea salt, and classic dark; all the perfect bite-sized amount. Lake Champlain offers chocolate snowmen in milk and dark chocolate for those who can't build one yet. We also have cookie squares from Michel & Augustin in dark chocolate with sea salt, milk chocolate with melty caramel, and a few more surprise flavors for when you come into the store! Don't know any chocolate fans? Yum Earth has the solution with organic mini candy canes that are great for stockings or a small treat.
Here at the co-op, we know not everyone is a fan of sweets. For you friends that like fresh scents, Big Dipper has a small peppermint and birch candle with a big effect! Throw in a few organic lip balms and body care from Badger with scents from the holidays that you and your loved one's can use even after winter is over.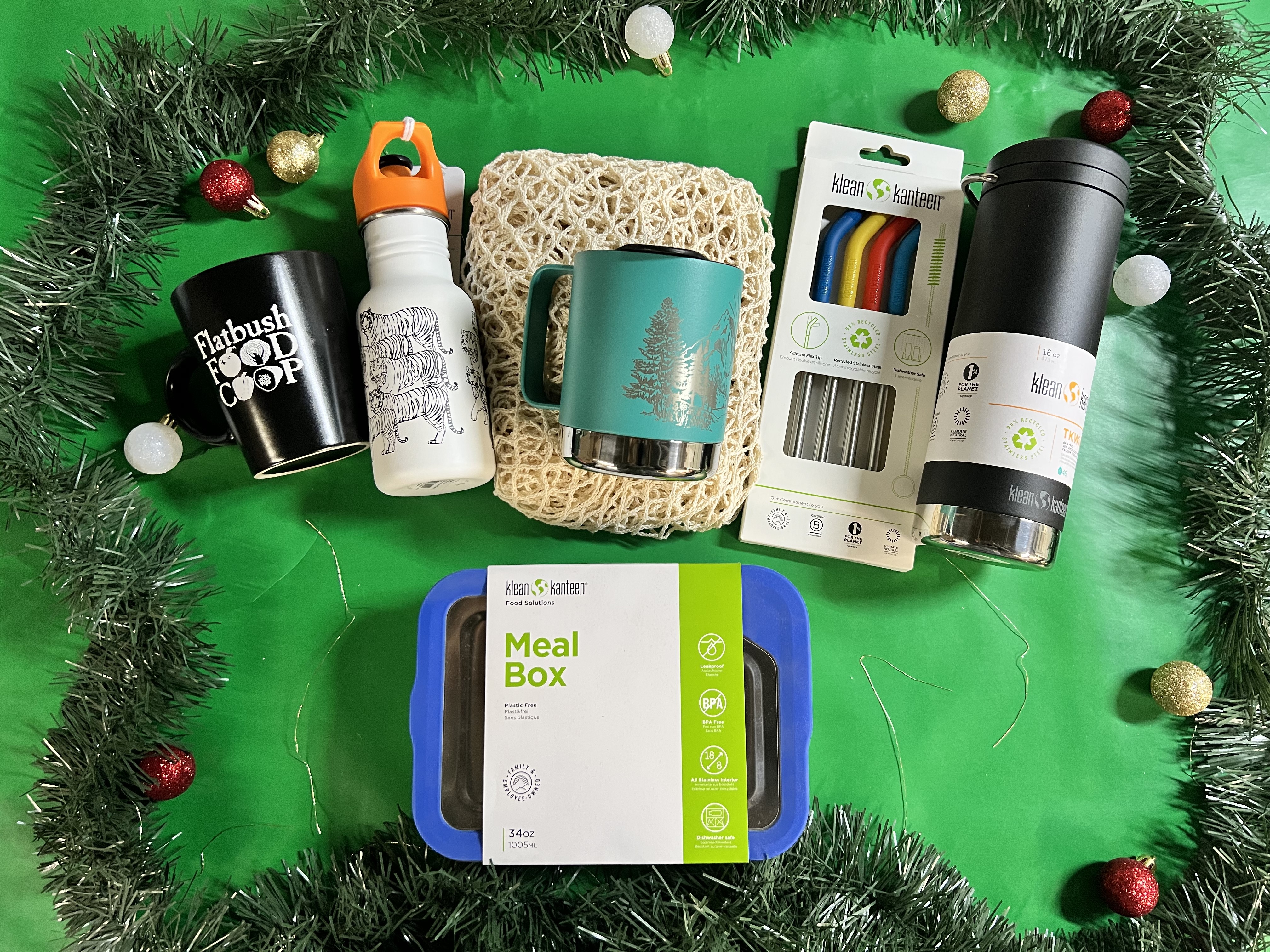 Help your friends achieve zero-waste by buying them reusable bags, straws, and mugs. We believe in living sustainably and we know our shoppers agree with us! Instead of wrapping these presents, you can put them into the reusable bag and gift them to your family and friends that way, staying true to zero-waste shopping!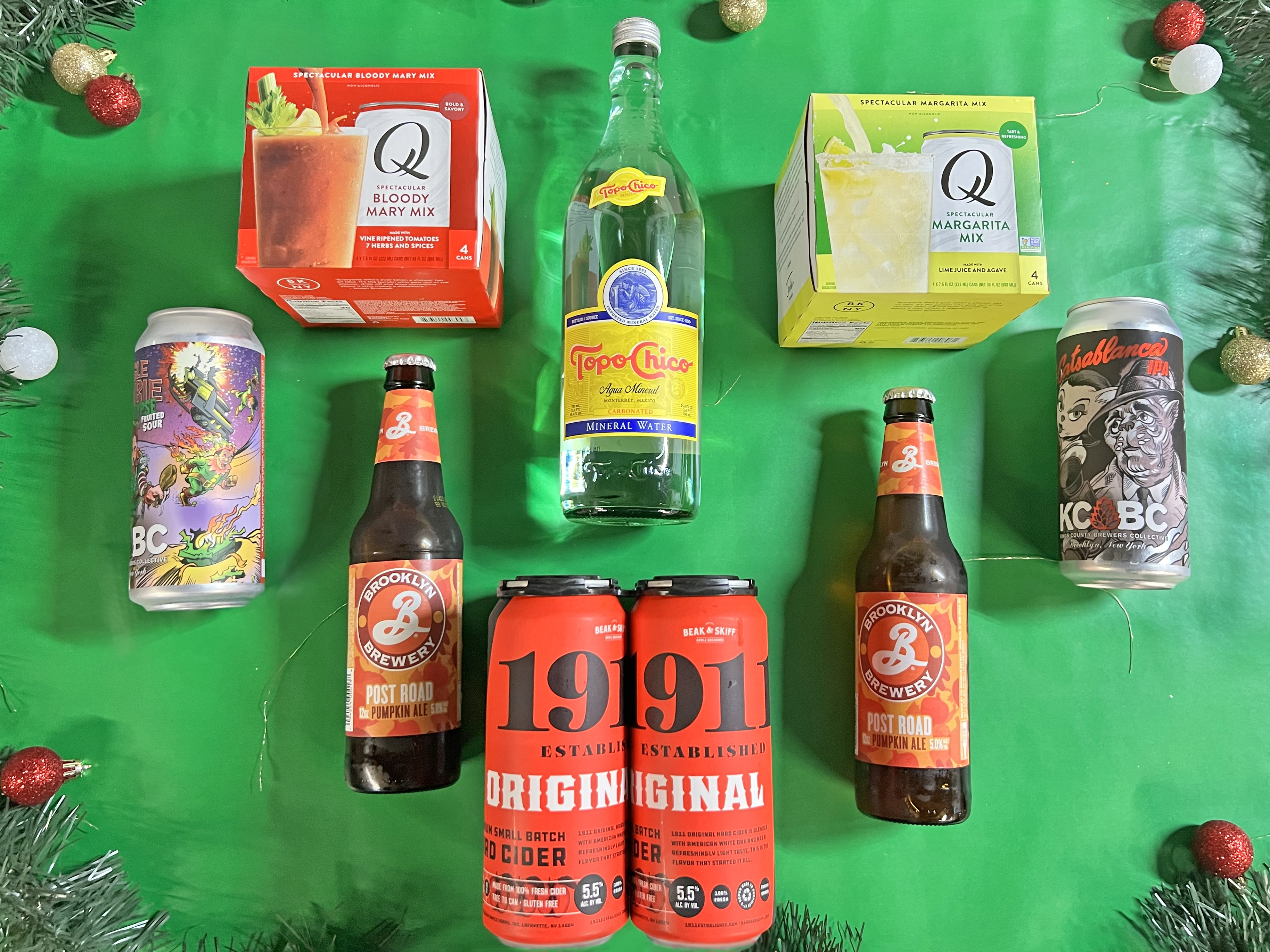 Keep it local and fun with these beers and ciders. We offer many beers at the co-op that were brewed right here in Brooklyn, so with every purchase, you're supporting your very own home! You and your family have worked so hard this year, and for those that enjoy a drink every once in a while, now's the perfect time to share a laugh and a beer. Locally made Q Mixers also have lime margarita and bloody mary mixers for those who want something a little stronger!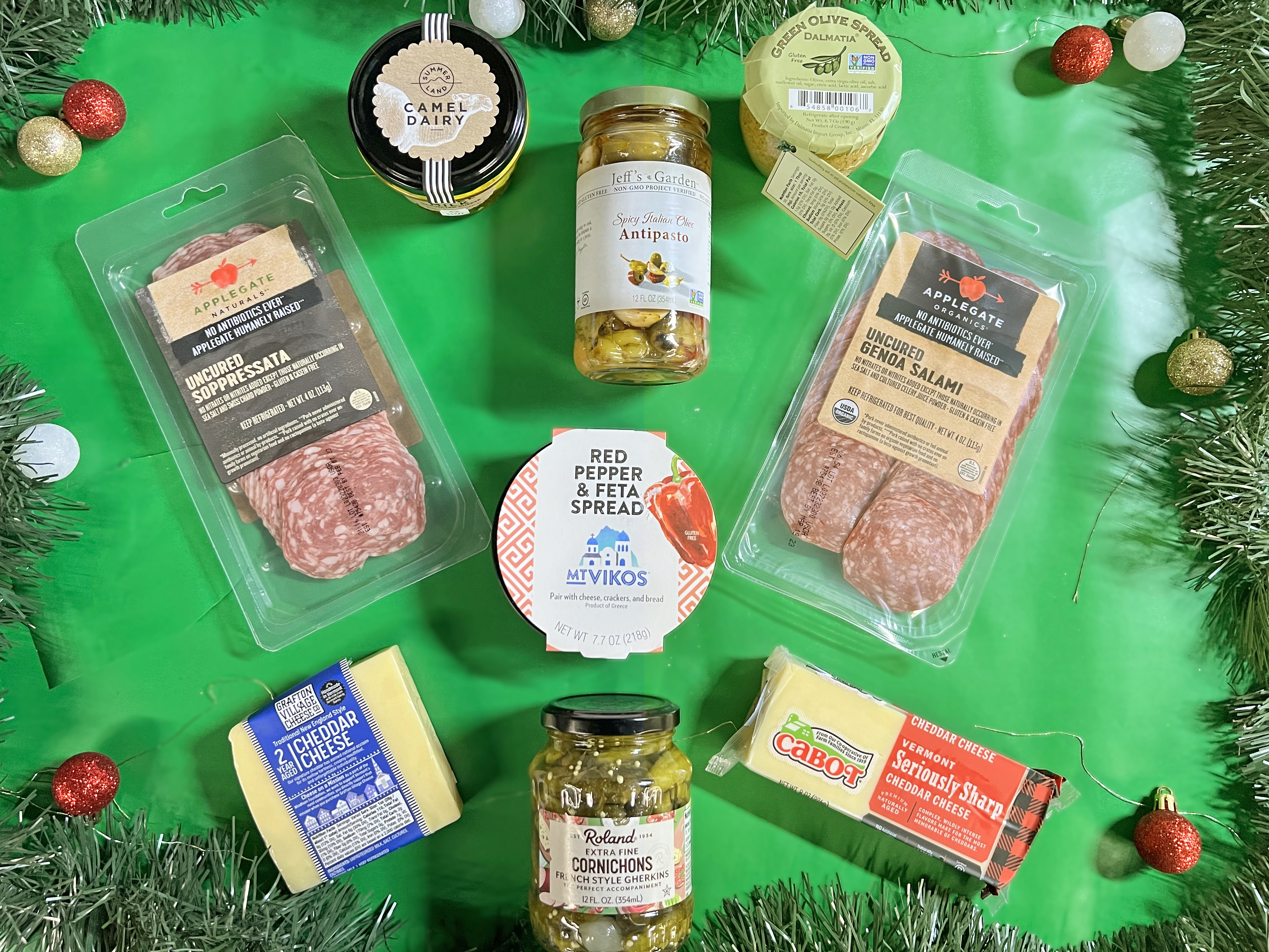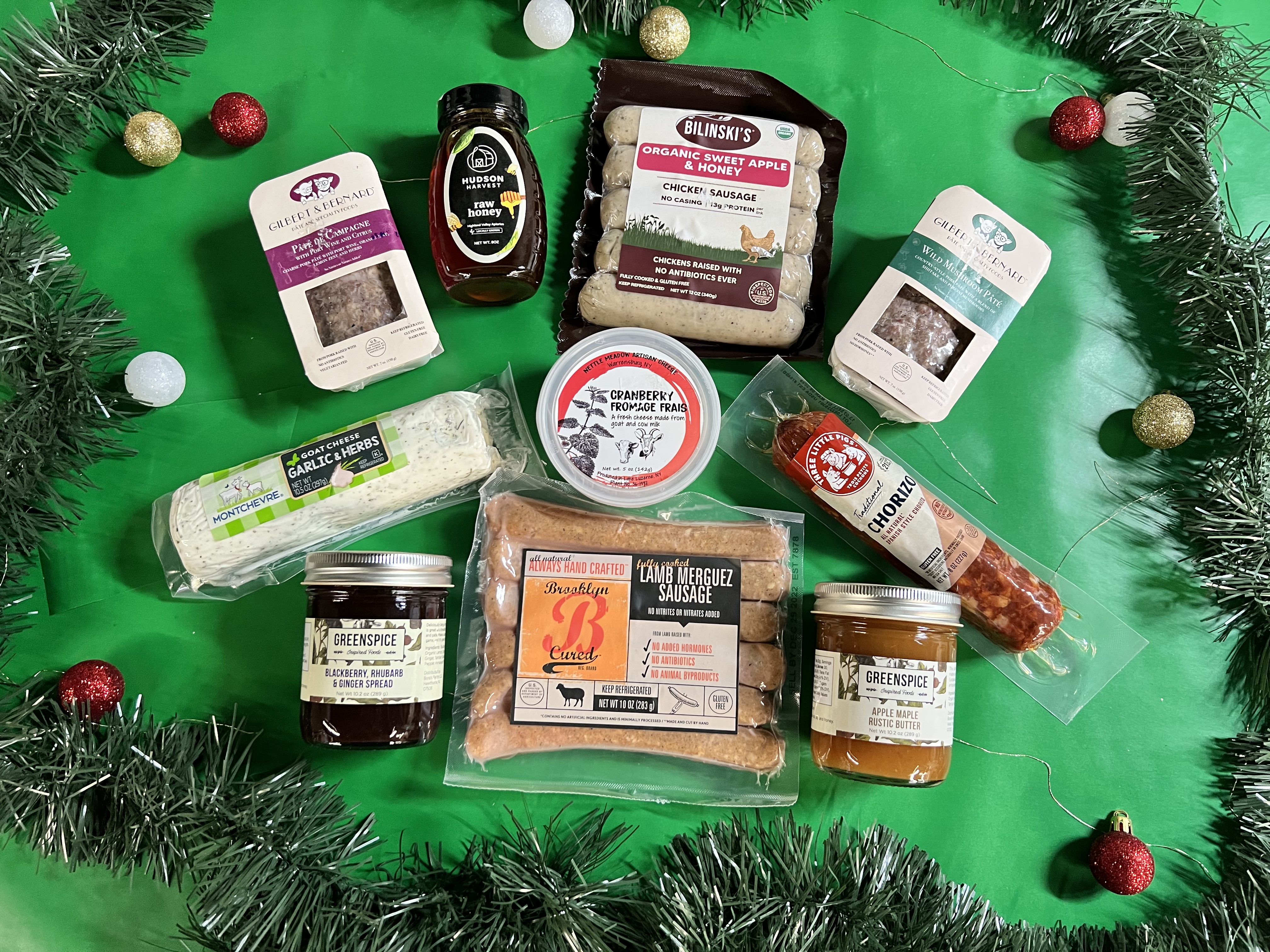 Is there any better way to snack at a holiday party than with a charcuterie platter? The co-op offers multitudes of meats and cheeses to go on your board this year. We also have olives and spreads as the perfect sides, and you can always stop by our produce section for grapes to add that special touch!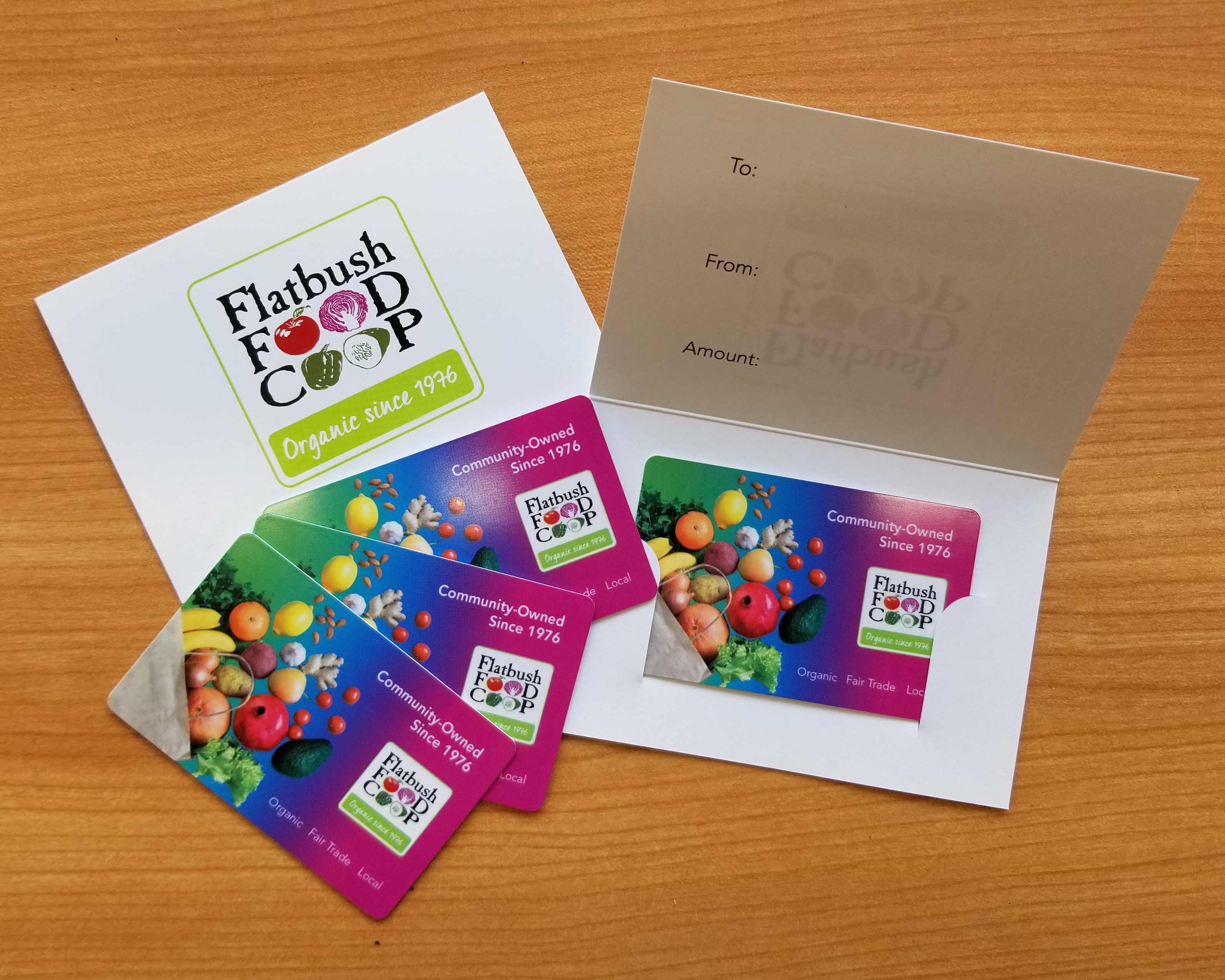 Give the gift of healthy food and eco-friendly products- co-op gift cards are always available at check out!
Available in any amount- just ask your cashier!
Want to give the gift of membership?
Purchase a $40 gift card (covering a new member's processing fee and first equity share payment) or a $200 gift card (to cover full equity)!